Karastan Carpet
An industry legend, Karastan has been crafting innovative soft-surface flooring solutions for nearly a century. Today, the legend continues with these distinctive, stunning, and seriously comfortable carpets and rugs, aimed to beautify your home in heirloom fashion.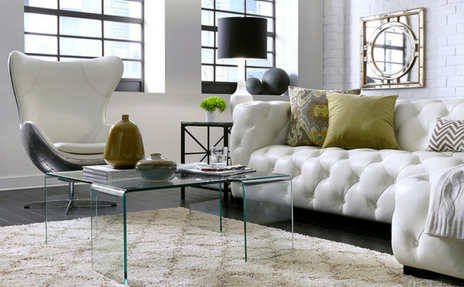 Why Choose Karastan
An enduring and eternally stylish addition for even the heaviest traffic spots, Karastan is made to handle whatever life throws at it. It can resist stains and fading over time, and is offered up in endless variations to coordinate with your space and style. Many of these rugs are woven from naturally-sourced wool fibers, making the naturally resistant to allergens like mildew, mold, and dust.
All varieties prominently feature Karastan's signature weaving styles and patterns, which will contribute lasting value to your interiors, along with a touch of luxury.
Our Karastan Selection
Karastan offers up a full spectrum of quality, original products, including SmartStrand carpets- a great option for busy homeowners who long for a luxurious, soft-surface floor.
SmartStrand Silk
The ultimate in soft, luxurious carpeting, Karastan's SmartStrand Silk achieves this fete by packing over 700 tiny, silky fibers into one incredible, durable yarn.
SmartStrand Forever Clean
Are you dreaming of stain resistance that can last for an actual lifetime? Forever Clean achieves just that, using the latest technologies that, unlike other stain-resistant coatings, won't ever be erased by time.
At Paradise Carpet One Floor & Home, we offer up a full inventory of fine Karastan carpets and rugs. Visit us today at 2108 West 27th Street Suite E in Lawrence, KS, and discover the wondrous world of Karastan.