Hardwood Refinishing
One of the most significant benefits of hardwood floors is that they can be refinished multiple times. While hardwood floors are durable and last a long time, the finish does not. Over time, hardwood floors will wear in spots where there is high traffic and wear and tear. Fading can also occur when hardwood is exposed to UV rays. Hardwood floors are common in old homes and can be found underneath the carpet. Whether your floors are worn, faded, or have been around for a long time, at Paradise Carpet One Floor & Home, we can assist in bringing your hardwood floors back to life.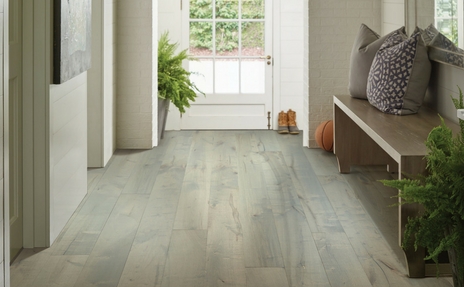 Types of Refinishing
Buffing or sanding and refinishing floors are two different methods used to bring hardwood floors back to their original, charming state.
Buffing floors means sanding out the scratches in the polyurethane layer. Our hardwood experts use a buffing tool to complete this refinishing. Buffing keeps the wood underneath from being sanded and extends the life of the floor. Once the floors are buffed and a new coat of finish is applied, they will have the same stain color, but they will resist wear and tear like new.
Sanding and refinishing floors means sanding the finish and stain down to the next layer of wood and reapplying stain and finish. Sanding and refinishing floors is ideal for floors that are old and worn, where the polyurethane layer is nearly gone. Starting with a drum sander, floors are sanded to remove the old stain and finish. We recommend using professionals because drum sanders can cause severe damage to hardwood if not handled properly. After the wood is sanded, holes are filled, and a new stain is applied. Once the stain is dry, a finish is applied with three to four coats. Each step takes time to dry, which means furniture cannot sit on top of the floor.
If you are thinking about refinishing your floors, let us help! Visit us in Lawrence, KS to learn more.